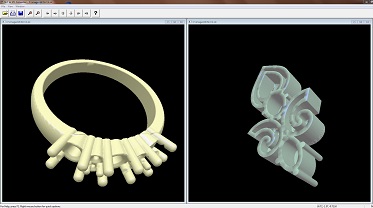 SLC2STL is a standalone software specially developed to convert JewelCAD SLC file to high quality STL files to be used by other CAD software and 3D printers. SLC2STL uses the advanced 3D modeling technologies developed in the FDA-cleared 3D-DOCTOR medical imaging and modeling software for generating accurate surface mesh from SLC data.
You simply open your SLC file to convert and save to the STL or other supported formats. If you have multiple SLC files to convert, then use the "Batch Conversion" command to convert them with a single command.
SLC2STL is currently being used by Jewelry Design users in many countries to convert their JewelCAD SLC files to high quality STL files.
Download
Click here to download the software to convert your own SLC files. You'll see the converted 3D designs but won't be able to save the STL files. Only the validated full license allows the saving of the STL files.
Price
SLC2STL Software: US$995.00 per license.
Order It Today
Order Online
If you are located outside the US, you can place your order with the
order form
. Please fill out the
order form here
, email to
sales@ablesw.com
.